www.vitimasaxcel.com.br is the website for the Axcel Books Victims Association.
Axcel Books was a Brazilian publishing house, specialized in technical books (IT in particular),  that went down in 2007 after years of not paying royalties to their authors, lying about the amount of books actually sold, and having a huge debt with their vendors, banks, and associates, while their partners, Ricardo Reinprecht and Gisella Narcisi Reinprecht were having the time of their lives, with international trips, shopping sprees in high-end boutiques, buying expensive cars, and also a huge apartment in front of the Barra da Tijuca beach in Rio de Janeiro, Brazil.
Gabriel Torres, Axcel Books number one author, sued them for unpaid royalties and won, with the partners closing up shop, getting fraudlent loans in several banks, liquidating all their assets, and going into hiding, so they wouldn't pay the debt, in a move typical of the TV show American Greed. The debt amount with Mr. Torres, as of 2021, is around R$ 10 million (about USD 2 million).
Our current goal is to located the couple Ricardo Reinprecht and Gisella Narcisi Reinprecht and bring them to justice.
If you know them, have seen them (see photos below), have been in contact with them, or have any other information that might help us, please contact us at gabriel [at] vitimasaxcel [dot] com [dot] br. All information, as small as it may seem, might be useful.
In late 2009, Ricardo Reinprecht released a book about the Brazilian martial art capoeira titled "Unknown Capoeira" (Blue Snake Books), with the pen name "Mestre Ricardo Cachorro", a clear attempt to get some money to support himself while in hiding (as if the money he stole was not enough). The interesting part is that Mr. Reinprecht hasn't being training capoeira for 30 years, so it is a least suspicious that someone not involved with capoeira for three decades decided to write a book about this art. The illustrator of the book was not paid for the job (another victim). Therefore we urge everybody to boycott this book, as by buying it you will be helping a well-known con artist to stay afloat.
Please help us by exposing this couple.
You can see Ricardo Reinprecht in the picture below. The person on the right is me (Gabriel Torres). I am 180 cm (5'11") tall, therefore he is about 168 cm (5'6″) tall. This photo was taken in 2001. More recent (2007) photos can be seen here and here.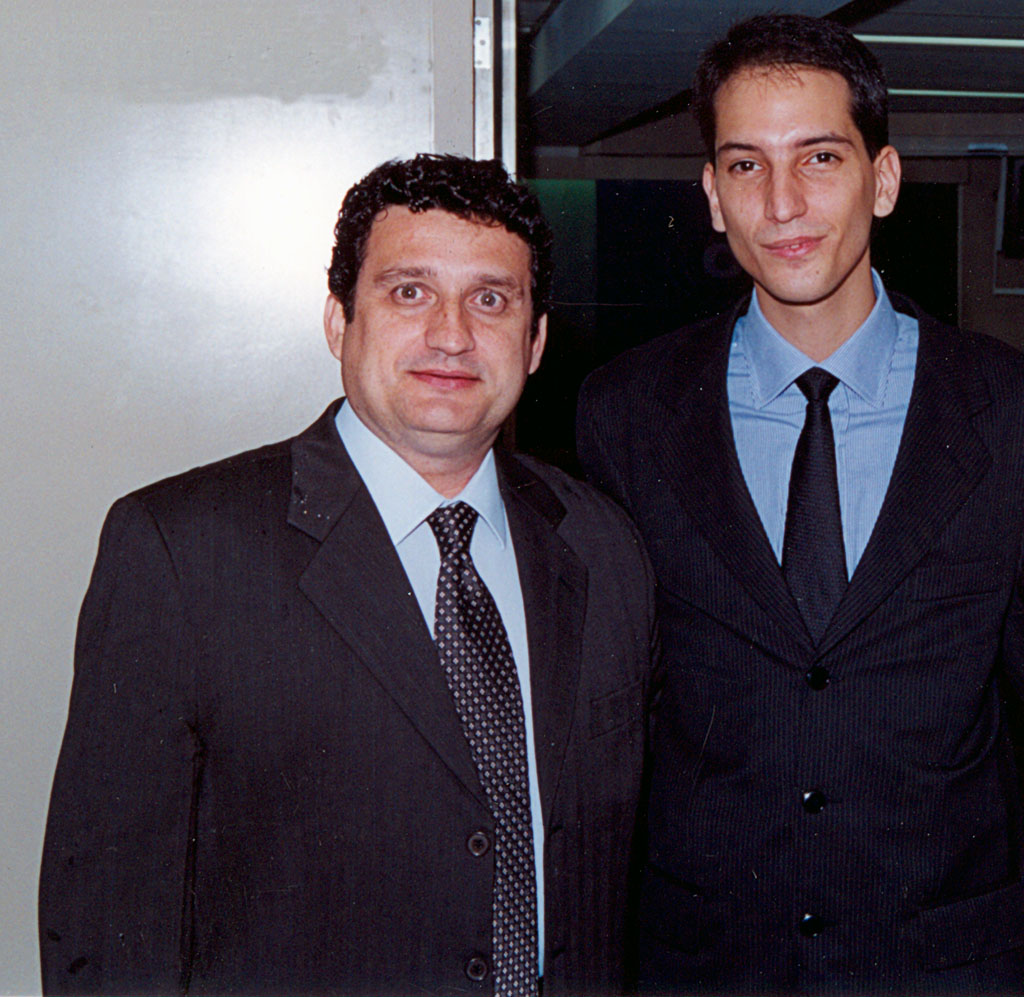 The photo below is older, from 1998, but it shows his wife and business partner, Gisella Narcisi Reinprecht. The gentleman on the far left is Romero Portella, who, at the time, was partner with the Reinprechts. He is no longer associated with them, and as a matter of fact, sources tell us that he had to pay R$ 800,000 to leave the business and get rid of the couple.